Taste notes
Thanks to its lightness the Favorita wine complime
nts all starters and pasta dishes that are not too heavy; its pairing with fish, pizza or white meat is fantastic. As a result of its freshness, combined with lightness and softness, this wine is also an excellent aperitif.
Favorita is the ideal wine when in company and it's also a perfect "bar wine". This is a great aperitif to have with friends at the bar. It is also excellent for any type of meal, especially for lunches or light dinners with fish. It is also exceptionally fitting for cooking white meats or, in general, grilled meats. This product should be served ideally at 5 – 6 ° C.
Historical notes
Favorita is a white wine of moderate alcohol content and light structure; a wine that did not exist in the past. Its vine, with long and large clusters of rather huge grapes, in fact, was used for the production of edible-grapes. The Favorita grape was not used for making wine, rather it was eaten as fruit. Later, with the advent of new clones and new cultivation and production techniques, some growers thought of trying to vinify it, thus obtaining a very good product. Today the Favorita wine is cultivated mainly in the Langa area and in part in the Roero area and is produced in limited quantities. Roughly 10,000 Ql are produced in an area of over 130 hectares, divided into 48 municipalities.
More information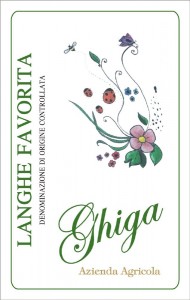 Basic Information
Product name: Langhe Favorita DOC
Cépage: Favorita
Appellation: Langhe Favorita
Classification: DOC
Color: white
Type: still
Country/Region: Piemonte
Vintage: 2016
Alcool percentage: 12%
Sugar rate: 0.40
Number of bottles produced: 2,000
Vinification (Wine-making)
Method: soft pressing of the grapes, sedimentation in tank of 15 Hl. Fermentation with the use of selected yeasts and subsequent filtration
Temperature: 24 °C
Lenght: 14 days
Malolactic: no
Aging: no
Bottle
Empty bottle weight: 400 g
Date of bottling: 3rd March 2017
Aging potential: 1 year
Cork size: 24 x 44
Cork material: natural cork
Bottle type: Bordolese
Vineyard
% of Grape/Cépage: 100% Favorita
Soil: calchy
Exposure: southeast
Agricultural method: sustainable
Year of plantation: 1990
Date of harvest: 15th September 2017
Type of harvest: manual with box
Geolocation: 250 a.s.l.
Chemical Analysis
Dry extract [g/l]: 17.6
Total acidity [g/l of tartaric acid equivalent]: 4.81
Volatile acidity [g/l acetic acid equivalent]: 0.34
Total SO2[mg/l]: 73
Free SO2[mg/l]: 20
Packaging
Number of bottles per box: 6
Box size: 23.6 x 31.6 x 29.6