Taste notes
The dolcetto is a classic table wine, fabulous for accompanying lunch or dinner from the beginning of the meal to the end. It is ideal for combinations with first and second courses. Thanks to its lightness and pleasant characteristics, this wine goes extremely well as an 'apericena', which is a dinner aperitif, and is great for all sorts of snacks. The dolcetto can be considered an everyday wine; thanks to its lightness it's great for any moment and every occasion in life, for both pleasant and sad times. It is particularly suitable for everyday lunches and dinners. The dolcetto is always a great companion for snacks. It should be served preferably at a temperature of 18-20 °C.
Historical notes
The Dolcetto, which is a red wine of moderate alcohol content and light structure, is a vineyard whose origins are uncertain. The name perhaps derives either from the flavor of the grapes, or even from the word "dosso", because it prefers to be cultivated in hilly areas. The dolcetto has always been grown in the Piedmont region, and it is still considered one of the most common varieties of grape throughout the region. This variety of grapes matures precociously and is very selective with respect to soil and climate. Dolcetto grapes produce wines with limited acidity, that are balanced in tannins and color. They are ready to be drunk right away, but they are also suitable for moderate aging. Thanks to its olfactory characteristics, the dolcetto can also produce formidable rosé wines and young wines to be consumed in the same vintage year.
More information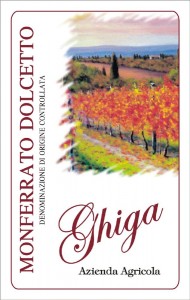 Basic Information
Product name: Monferrato Dolcetto DOC
Cépage: Dolcetto
Appellation: Monferrato Dolcetto
Classification: DOC
Color: red
Type: still
Country/Region: Piemonte
Vintage: 2016
Alcool percentage: 12%
Sugar rate: 0.40
Number of bottles produced: 1,500
Vinification (Wine-making)
Method: grafting of grapes and subsequent alcoholic fermentation with the use of selected yeasts with follings and replenishment. Grapevine and start of malolactic fermentation and subsequent fermentation
Temperature: 28 °C
Lenght: 14 days
Malolactic: yes, for 12 days
Aging: 1 year in bottle
Minimum aging in bottle: 1 year
Bottle
Empty bottle weight: 400 g
Date of bottling: 3rd March 2017
Aging potential: 3 years
Cork size: 24 x 44
Cork material: natural cork
Bottle type: Bordolese
Vineyard
% of Grape/Cépage: 100% Dolcetto
Soil: clay
Exposure: south
Agricultural method: sustainable
Year of plantation: 1985
Date of harvest: 25th August 2017
Type of harvest: manual with box
Geolocation: 200 a.s.l.
Chemical Analysis
Dry extract [g/l]: 25
Total acidity [g/l of tartaric acid equivalent]: 5.01
Volatile acidity [g/l acetic acid equivalent]: 0.32
Total SO2[mg/l]: 101
Free SO2[mg/l]: 35
Packaging
Number of bottles per box: 6
Box size: 23.6 x 31.6 x 29.6