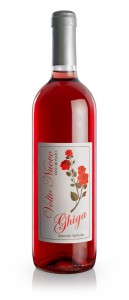 Taste notes
"Volto Nuovo" can have the same pairing like a young white wine such as Favorita; it compliments fish, starters (in particular seafood salads), but also white meats and dishes that are not too structured. Thanks to its strong effervescence and great freshness, this rosé wine is well suited as an aperitif.
"Volto Nuovo" is great, as well, even in the kitchen for cooking meat on the grill or preparing tasty sauces to flavor excellent dishes. "Volto Nuovo" which has an intense pink color resembles the color of roses in May; it reminds us of spring and the summer that follows; this is why the Rosé wine is considered to be the summer wine, an excellent companion with which to quench our thirst at lunch or dinner during long hot and sultry days, perhaps while sitting by the pool or maybe even while working. The flavor of this wine tends to be "feminine"; it is great for complimenting dinners or lunches in good company, romantic evenings or even honeymoons. It should be served preferably at a temperature of 5 – 6 ° C.
Historical notes
This Rosé wine is of moderate alcohol content and good structure to the palate, with an excellent intense pink color. It is made from Barbera grapes (roughly 70 %) and Freisa grapes (roughly 30 %) and is vinified in rosé.
The Barbera grapes give it a distinguished color, sound structure and acidity, while the Freisa grapes give it a very pleasant fruity aroma and a tempting softness.
The name "Volto Nuovo" means (new feature) and thus wants to give new identity to Barbera, which is a red, medium textured or medium aged wine.
The Barbera rosé is in fact an "innovative" and quite interesting product; a must try.
More information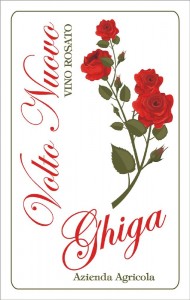 Basic Information
Product name: Volto Nuovo Vino Rosato
Cépage: Barbera – Freisa
Appellation: –
Classification: –
Color: rosè
Type: sparkling
Country/Region: Piemonte
Alcool percentage: 12%
Sugar rate: 1
Number of bottles produced: 1,000
Vinification (Wine-making)
Method: grapes pressing with a maceration of 12 hours in contact with the marc. Subsequent alcoholic fermentation with the use of selected yeasts. Continue with clarification and filtration until bottling
Temperature: 15 °C
Lenght: 12 days
Malolactic: no
Aging: no
Bottle
Empty bottle weight: 400 g
Aging potential: 1 year
Cork size: 24 x 44
Cork material: natural cork
Bottle type: Bordolese
Vineyard
% of Grape/Cépage: 70% Barbera, 30% Freisa
Soil: medium dough
Exposure: south
Agricultural method: sustainable
Year of plantation: 2000
Type of harvest: manual with box
Geolocation: 250 a.s.l.
Chemical Analysis
Dry extract [g/l]: 16.8
Total acidity [g/l of tartaric acid equivalent]: 7.60
Volatile acidity [g/l acetic acid equivalent]: 0.40
Total SO2[mg/l]: 44
Free SO2[mg/l]: 9
Packaging
Number of bottles per box: 6
Box size: 23.6 x 31.6 x 29.6