Taste notes
Barbera d 'Asti goes extremely well with all the typical dishes of the Piedmont tradition, in particular with second course meat and game dishes. Thanks to its acidity and structure, it can go very well with fresh and strong cheeses, but also with structured dishes that are particularly demanding .
Barbera is the "wine of meats" and memorable meals. It is an excellent companion for festive dinners and lunches such as Christmas, New Year, Epiphany or Easter. A great way to savor it is, for example, with lentils and pig's trotter, or alternatively with roasted wild boar. Thanks to its harmonious taste, Barbera can also be a wine of meditation that can help reasoning and accompany thoughts of all kinds. It should be served preferably at a temperature of 18 – 20 ° C.
Historical notes
This is a red wine with a good alcohol content, strong acidity and moderate structure. Barbera has always been one of the most popular varieties of wine in Piedmont. Not much is known about the origins of this vineyard; we only know that it was being cultivated at the end of the 1700s. You could say that in the past Barbera was the table wine drunk by most farmers, perhaps because of its rough and strong character, which was able to transmit the energy needed to overcome a hard day's work that was common in the Langhe and Monferrato lands. This vine has good cultural and productive features and has excellent pedoclimate adaptability.
More information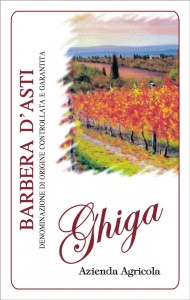 Basic Information
Product name: Barbera d'Asti DOCG
Cépage: Barbera
Appellation: Barbera d'Asti
Classification: DOCG
Color: red
Type: still
Country/Region: Piemonte
Vintage: 2016
Alcool percentage: 13
Sugar rate: 2.8
Number of bottles produced: 3,000
Vinification (Wine-making)
Method: grape distillation and alcoholic fermentation with the marc. Next breeding and malolactic fermentation start and subsequent fermentation
Temperature: 28 °C
Lenght: 14 days
Malolactic: yes, for 14 days
Aging: 1 year in bottle
Minimum aging in bottle: 1 year
Bottle
Empty bottle weight: 400 g
Date of bottling: 3rd March 2017
Aging potential: 3 years
Cork size: 24 x 44
Cork material: natural cork
Bottle type: Bordolese
Vineyard
% of Grape/Cépage: 100% Barbera
Soil: clay
Exposure: south
Agricultural method: sustainable
Year of plantation: 1970
Date of harvest: 29th September 2017
Type of harvest: manual with box
Geolocation: 200 a.s.l.
Chemical Analysis
Dry extract [g/l]: 29.5
Total acidity [g/l of tartaric acid equivalent]: 5.90
Volatile acidity [g/l acetic acid equivalent]: 0.59
Total SO2[mg/l]: 83
Free SO2[mg/l]: 30
Packaging
Number of bottles per box: 6
Box size: 23.6 x 31.6 x 29.6