Tasting notes
Red wine with intense red colour. It has aromas of spices and the taste in intense with aromas of liquorice.
Served at 18 – 20 °C.
Historical notes
This is a red wine with a good alcohol content, strong acidity and moderate structure. Barbera has always been one of the most popular varieties of wine in Piedmont. Not much is known about the origins of this vineyard; we only know that it was being cultivated at the end of the 1700s. You could say that in the past Barbera was the table wine drunk by most farmers, perhaps because of its rough and strong character, which was able to transmit the energy needed to overcome a hard day's work that was common in the Langhe and Monferrato lands. This vine has good cultural and productive features and has excellent pedoclimate adaptability.
More information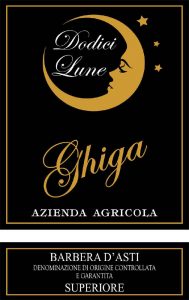 Basic information
Product  Name: Barbera d'Asti DOCG Superiore Dodici Lune
Cépage: Barbera
Appellation: Barbera d'Asti Superiore
Classificaton: DOCG
Color: red
Type: still, aged red
Country/Region: Piedmont, Italy
Vintage: 2020
Alcool percentage: 14,5%
Residual sugar: about 2 g/l

Vinification (Wine-making)
Method: the grapes are harvested by hand and destemmed using a special destemming machine; the latter separates the stems from the berries and then crushes the
destemmed making the must come out. The destemmed crushed grapes are then pumped into the special steel fermentation tanks (Fermentini); in these tanks, selected yeasts are added and alcoholic fermentation begins at a controlled temperature, which will last until the fermentable sugars are exhausted. At this stage, frequent pumping over (an operation that consists of wetting the floating skins on the fermenting must with the same must taken from the bottom of the tank by means of a special pump) and delestage (decanting a part of the fermenting must and putting it back into the tank from the top, wetting the floating skins) are carried out. At the end of fermentation – maceration, the wine is separated from the skins (racking operation) and the latter pressed and sent to the distillery. The obtained wine is racked after 7 days from the end of alcoholic fermentation, separated from the lees (fermentation residues) and heated to 20°C for the 'start of malolactic fermentation (transformation of malic acid into lactic acid), a fundamental phase for microbiological stability and the achievement of a good level of taste softness. At the end of this fermentation, we proceed with second cleaning racking. The wine remains in steel tanks until 'the beginning of March, when milder spring temperatures allow racking into wooden barrels and the beginning of the aging period.
Temperature: 27 – 28°C
Lenght: 7 – 10 days
Malolactic: carried out in steel tank
Aging: in a wooden barrel
Age of barrels: new barrel
Wood type: classic round, size 15 hectoliters
Barrels type: French oak
Level of toast: medium
Percentage of new barrel: 100%
Aging time in wood: 12 months
Minimum aging in bottle: 10 – 15 days after bottling
Bottle
Empty bottle weight: 550 g
Aging potential: 10 years
Cork size: 24,2 x 44
Cork material: cork
Bottle type: Bordeaux Euoropean Transalpine
Vineyard
% of Grape / Cépage: barbera
Soil:medium mixture, with a good endowment of clay, silt, and iron and aluminum silicates. Low endowment of limestone
Exposure: south
Agricultural method: spontaneous grassing, with 2 mowing of the 'grass during the spring – summer season and one tillage (subsoiling with a 3-tooth ripper) to a depth of 30 – 40 cm, carried out in the fall. Limited use of fungicides and total elimination of the practice of chemical weeding. Light thinning is also practiced to eliminate any tangles of clusters that would prevent proper ripening
Year of plantation: 1955
Date of harvest: October
Type of harvest: manual in crates
Geolocation: mid hill
Chemical Analysis
Total acidity: about 6 g/l in tartaric acid

Packaging:
Number of bottles per box: 6
Box size: 30×15
Box type: white corrugated cardboard in microtriplicate, autographed with company branding