Taste notes
The Passito di Moscato (Raisin wine) can be paired in many ways, with anything from cheese to pastries. Thanks to its liqueur consistency, "Ultimo Grappolo" can also be served as a sweet liqueur drink with low alcohol content. It is excellent for matching with desserts of all kinds and biscuits; goes well with cheese, too, if they it's not too strong. This raisin wine can also be used for preparing tasty fruit salads, cakes and "tiramisù". "Ultimo Grappolo" is a wine for meditation and thought. It's a great companion for reflecting. It can be drunk alone while contemplating but also along with joyful company, for example at the end of a meal as a digestive. It should be served preferably at a temperature of 10° C.
Historical notes
"Ultimo Grappolo" is an aromatic white raisin wine of moderate alcohol content and excellent structure. It represents the sweet version of moscato wine, which is an important Piedmont vine quality that is also used for the famous Moscato d 'Asti and Asti Spumante DOCG wines.
The method of drying grapes to increase the alcohol content probably comes from the island of Pantelleria, native land of the most popular raisin wine in the world. How this technique reached the Piedmont region is unknown. The only certainty is that in the past, during years with particularly bad weather, the Piedmont wine-makers' custom was to leave the clusters attached to the vines until they began to wilt; the withering process serves to concentrate the sugars and all the other substances, thus creating a considerable increase in the quality of the product. Later the wine-makers noticed that, using this technique, they could obtain a very sweet and colorful liqueur-tasting wine, with a pleasant flavor of raisins. This is how the production of Moscato raisin wine began and over the years it has grown to the point where there is now an origin denomination called the Piedmont Moscato raisin wine.
The production of sweet wine in Piedmont is now quite limited because the processing is lengthy and requires meticulous care, furthermore not all vintages are ideal, which is why many manufacturers have chosen not to produce this type of wine. However, in the Moscato area, the process of drying grapes has been perfected and continued by some growers, strong-willed men, who manage to obtain excellent products from these aromatic grapes. Products which attain recognition in national and international competitions.
More information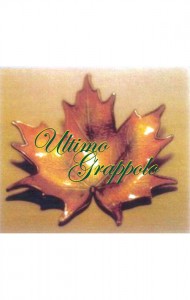 Basic Information
Product name: Ultimo Grappolo
Cépage: Moscato
Appellation: wine made from dried grapes
Classification: –
Color: white
Type: still
Country/Region: Piedmont – Italy
Vintage: 2015
Alcool percentage: 12 % Vol.
Sugar rate: 173 g/l
Number of bottles produced: 1400
Vinification (Wine-making)
Method: the grapes are ripened directly in the vineyard until they reach roughly 13.50 to 14% vol. of the alcohol potential, after which the harvest is carried out. The clusters (which are cut into small pieces) are placed on racks in a ventilated room. They are then left to dry for about a month, until they reach 20-25% vol. of the alcohol potential. The grapes are then pressed whole and the must is clarified spontaneously (without the use of fining agents), and then the alcoholic fermentation begins using a special strain of selected yeast. The product is made exclusively in particularly favorable vintage years when the withering of the grapes is at its utmost in order to ensure the highest quality level.
Temperature: 15 ° c for the entire duration of the process
Lenght: over 20 days
Malolactic: not carried out
Aging: 4 months in steel containers
Minimum aging in bottle: 1 year after bottling
Bottle
Empty bottle weight: 500 gr
Date of bottling: 30/03/2016
Aging potential: 4 years maximum
Cork size: 28 x 42
Cork material: cork
Bottle type: renana orlèans 0,375 l.
Vineyard
% of Grape/Cépage: 100 % Moscato
Soil: marly, with an abundance of limestone
Exposure: south-west
Agricultural method: spontaneous grassing, cut twice during the spring – summer period and soil tillage (ripper subsoiling with 3 teeth) to a 30-40 cm depth, carried out in autumn. Limited use of herbicides and fungicides.
Year of plantation: 1977
Date of harvest: 07/09/2015
Type of harvest: manually in cases
Geolocation: medium hill
Chemical Analysis
Dry extract [g/l]: 40
Total acidity [g/l of tartaric acid equivalent]: 6.5
Volatile acidity [g/l acetic acid equivalent]: 1.2
Total SO2[mg/l]: 85
Free SO2[mg/l]: 10
Packaging
Number of bottles per box: 6
Box size: 260 x 172 x 311 mm
Box type: white, triple type corrugated cardboard, signed with the corporate brand