Tasting notes
Nebbiolo owes its name to the fact that at one time grapes were harvested in November, a time when the first fogs usually formed. People would go to harvest in the middle of the fog, and this is where the name Nebbiolo came from. It comes from a beautiful vineyard located in the municipality of Santo Stefano Belbo. The southern exposure favors proper and complete ripening of the grapes, which develop intense, fruity aromas and intense coloring. With aging in barriques, the nebbiolo takes on a ruby red color with garnet highlights. The name "Le Margherite" comes from the particular presence of daisies in the vineyard during the summer. This wine goes well with red meats, stews and braised meats. We recommend oxygenating it in a balon glass so as to best enhance the this varietal possesses.
Historical notes
The first mentions of this grape variety date back to 1300 cited in Pier De' Crescenzi's treatise on agriculture. Later in the statutes of La Morra the grape variety is mentioned in the forms of vine training. Thanks to the Savoy family, Barolo was born and gradually became more and more a prestigious product.
Although it was called by Fantini "the prince of vines," it went through a phase of decline. American diseases pushed producers to turn to other grape varieties, leaving the names Barolo, Barbaresco, Nebbiolo d'Alba and Roero.
The name of this wine derives from the harvesting period corresponding to the mists that envelop the local hillsides in autumn. Among the noble Italian and other varieties, indigenous by cultivation and origin, it undoubtedly occupies one of the first places. To date, Nebbiolo best represents the Piedmont region by offering a wide range of wines including Langhe Nebbiolo DOC.
More information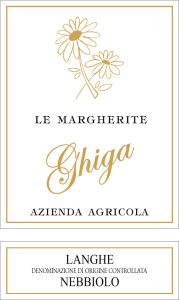 Basic information
Product Name: Langhe Nebbiolo DOC Le Margherite
Grape Variety: Nebbiolo
Denomination: Langhe Nebbiolo DOC
Classification: DOC
Color: red
Typology: aged red
Country/Region: Italy – Piedmont
Alcohol content: 13.50% vol.
Residual sugar: about 2-3 g/l
Total acidity: about 6 g/l
Vinification (Wine-making)
Method: the harvest is done manually in boxes and after a subsequent phase of crushing-destemming, the starting base is obtained: the must. After storage in vertical steel winemakers (Fermentini) alcoholic fermentation begins with the addition of selected yeasts. During this phase, pump-over (an operation that consists of wetting the floating skins on the fermenting must with the same must taken from the bottom of the tank by means of a special pump) and delestage (decanting a part of the fermenting must and putting it back into the tank from the top, wetting the floating skins) are very important. When fermentation is complete, separation of the skins, which will be destined for the distillery, takes place, while the must begins malolactic fermentation at 20°C. At the end of this fermentation, the second racking takes place. The wine remains stored in steel tanks until March. It is then racked into used barrels and aged for 4 months.
Temperature: 27 to 28°C
Duration: 7 to 10 days
Malolactic: carried out in steel tanks
Aging: steel and barrique
Type of barrels: 225-liter barrels
Type of wood: French oak
Toast level: medium
Time in wood: 4 months
Minimum time in bottle: 10 – 15 days after bottling
Bottle
Empty bottle weight: 550 grams
Aging potential: 10 years
Cork stopper size: 24.2 x 44
Cork material: cork
Bottle type: transalpine European bordelaise
Vineyard
% grapes/vine: 100 % nebbiolo
Soil: medium-textured, with good clay and limestone and a high magnesium content
Exposure: south
Agricultural method: grassed soil with seeding of selected grasses, with 2 mowings of the grass during the spring – summer season and minimal tillage with single-tine ripper given the considerable slope of the vineyard carried out in the fall. Limited use of fungicides and total absence of herbicides.
Year of planting: 2019
Type of harvest: manual in boxes
Geolocation: medium hill
Packaging
Number of bottles per box: 6 – 12
Size of box: 260 x 172 x 311 mm
Type of box: white corrugated cardboard in microtriples, autographed with company branding