Tasting notes
Ventiquattro Lune comes from a further evolution of Dodici Lune. After spending 12 months in barrels and barriques, it continues its aging in 700-liter French oak tonneaux for another 12 months. It presents a very intense garnet red color with ruby highlights and aromas of licorice and
jam.
The great structure and alcohol content of 14.5 percent combined with the prolonged aging period makes it advisable to empty the bottle into a decanter at least an hour before serving to allow adequate oxygenation of the wine. In this way it will release all its
bouquet and can be enjoyed at its best.
A good accompaniment to all meat dishes and not only that, it also lends itself well to first courses and risottos, given its great delicacy and smoothness.
Also available in 1.5- and 3-liter sizes, it is also a very long-lived wine, i able to age for up to 20 years while preserving its freshness at its best. Therefore it is excellent as a collector's item for great enthusiasts.
Historical notes
In the past, Piedmontese winemakers used large and small wooden barrels simply as vessels to hold wine. There were professional figures who specialized in the construction of these wooden vessels, the famous "Bottai," and professionals who were responsible for the maintenance of these tanks. In those years, not much attention was paid to what happened to the wine during the time it was stored in these wooden vats; the priority was simply to contain certain large and small volumes until it was directly consumed or sold.
Wooden Botticelle were even used by wine merchants to sell wine in bulk, as containers such as demijohns or transport tanks were not yet used. When it was time to sell the wine, usually in late spring, winemakers filled small wooden casks that were loaded by hand (by rolling on wooden planks) first on wagons pulled by oxen or horses, and then with the advent of motorization on the first trucks. They would be delivered to the mountains of Piedmont, to the Ligurian Riviera, to Lombardy, to the Lombard lakes, and at most as far as the Veneto; long journeys that sometimes took several days.
When they arrived at their destination, the small casks would be unloaded and the final consumers would directly tap the wine at home from these small tubs as they drank it; these would then be picked up by the producer when they were empty, at the same time making an exchange with full ones. In this very rudimentary way the red wine market in Piedmont was conducted, both wholesale and retail, that is, to private end-consumer customers. However, no one realized that the wine, by remaining in wood, was being refined and changing its characteristics.
Around the 1960s, some great Piedmontese producers, among whom one may recall Angelo Gaja, intrigued by the increasingly well-known French fashions, noticed that a
little bit all red wines, by remaining in wooden containers for a certain time, refined their characteristics, evolved in taste and aroma, became softer on the palate, and therefore more pleasant, better. And so they began to age some batches of their wines in wooden barrels and barriques, initially imported from France.
In the meantime, there was the 'advent of new materials in the winery for the construction of tanks, such as fiberglass, concrete and enameled iron, and still later, steel
stainless steel. The increasing use of these new, easier-to-wash, cleaner wine vessels meant that wooden vessels were no longer used for winemaking and wine storage, but were used simply to refine wine.
And so it was that the practice of aging in wood was born, which later led to the birth of the great Piedmontese wines such as Barolo, Barbaresco, Roero, and various Barbera denominat
More information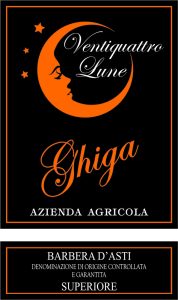 Basic information
Product name: Barbera d'Asti Superiore Ventiquattro Lune
Grape variety: Barbera
Denomination: Barbera d'Asti DOCG Superiore
Classification: DOCG
Color: red
Typology: aged red
Country/Region: Italy – Piedmont
Alcohol content: 14.50 % vol.
Residual sugar: about 3 -4 g/l
Total acidity: about 6 g/l
Vinification (Wine-making)
Method: the harvest is done manually in boxes and after a subsequent phase of crushing-destemming, the starting base is obtained: the must. After storage in vertical steel winemakers (Fermentini) alcoholic fermentation begins with the addition of selected yeasts. During this phase, pump-over (an operation that consists of wetting the floating skins on the fermenting must with the same must taken from the bottom of the tank by means of a special pump) and delestage (decanting a part of the fermenting must and putting it back into the tank from the top, wetting the floating skins) are very important. When fermentation is complete, separation of the skins, which will be destined for the distillery, takes place, while the must begins malolactic fermentation at 20°C. At the end of this fermentation, the second racking takes place. The wine remains in steel tanks until March ready to be put into barrels for aging. After 12 months of aging in various sizes of barrels and barriques it continues its evolution in 700-liter Tonneaux for another 12 months.
Temperature: 27 to 28 °C
Duration: 7 to 10 days
Malolactic: carried out in steel tanks
Aging: in French oak barrels
Age of barrels: new and used barrel
Barrel type: classic round wooden barrel, size 15 hectoliters and 7 hectoliters tonneaux
Type of wood: French oak
Toast level: medium
Percentage of new barrels: 50 %
Time in wood: 24 months
Minimum time in bottle: 10 – 15 days after bottling
Bottle
Empty bottle weight: 550 grams
Aging potential: 15 years
Cork size: 24.2 x 44
Cork material: cork
Bottle type: transalpine European bordelaise
Vineyard
% grapes/vine: 100 % barbera
Soil: medium-textured, with good clay and limestone and a high magnesium content
Exposure: south – east
Agricultural method: spontaneous grassing, with 2 mowings of the grass during the spring – summer season and one tillage (subsoiling with a 3-tooth ripper) at a depth of 30 – 40 cm, carried out in autumn. Limited use of herbicides and fungicides
Year of planting: 1980
Type of harvest: by hand in boxes
Geolocation: medium hill
Packaging
Number of bottles per box: 6 – 12
Size of box: 260 x 172 x 311 mm
Type of box: white corrugated cardboard in microtriples, autographed with company branding