Taste notes
Thanks to its lightness the Favorita wine complime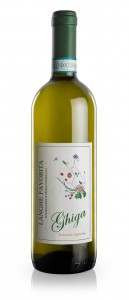 nts all starters and pasta dishes that are not too heavy; its pairing with fish, pizza or white meat is fantastic. As a result of its freshness, combined with lightness and softness, this wine is also an excellent aperitif.
Favorita is the ideal wine when in company and it's also a perfect "bar wine". This is a great aperitif to have with friends at the bar. It is also excellent for any type of meal, especially for lunches or light dinners with fish. It is also exceptionally fitting for cooking white meats or, in general, grilled meats. This product should be served ideally at 5 – 6 ° C.
Historical notes
Favorita is a white wine of moderate alcohol content and light structure; a wine that did not exist in the past. Its vine, with long and large clusters of rather huge grapes, in fact, was used for the production of edible-grapes. The Favorita grape was not used for making wine, rather it was eaten as fruit. Later, with the advent of new clones and new cultivation and production techniques, some growers thought of trying to vinify it, thus obtaining a very good product. Today the Favorita wine is cultivated mainly in the Langa area and in part in the Roero area and is produced in limited quantities. Roughly 10,000 Ql are produced in an area of over 130 hectares, divided into 48 municipalities.
More information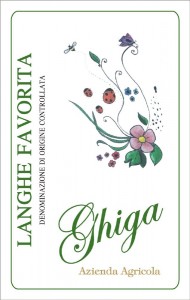 Basic Information
Product name: Langhe Favorita DOC
Cépage: Favorita
Appellation: Langhe Favorita
Classification: DOC
Color: white
Type: still
Country/Region: Piedmont – Italy
Vintage: 2015
Alcool percentage: 12.14 % Vol.
Sugar rate: 1 g/l
Number of bottles produced: 1400
Vinification (Wine-making)
Method: after macerating for about 12 hours inside of the press, the grapes are squeezed at a pressure that doesn't exceed 1.80 bar. Next is the decantation of the must and alcoholic fermentation begins. Fermenting is carried out with special yeasts at a controlled temperature. For the entire duration of the fermentation, the product is constantly agitated by a stirrer, 2 times a day for 5 minutes, in order to keep the "noble" yeast and grape lees suspended, thus obtaining an increase in body structure
Temperature: 14 – 15 ° c for the entire duration of the process
Lenght: 20 days
Malolactic: not carried out
Aging: 3 months
Minimum aging in bottle: 10 – 15 days after bottling
Bottle
Empty bottle weight: 400 gr
Date of bottling: 19/02/2016
Aging potential: 1.5 years
Cork size: 24 x 44
Cork material: cork
Bottle type: bordeaux 0.75 l
Vineyard
% of Grape/Cépage: 100 % Favorita
Soil: medium mixture, with a good amount of clay and limestone and an abundance of magnesium
Exposure: south-east
Agricultural method: spontaneous grassing, cut twice during the spring – summer period and soil tillage (ripper subsoiling with 3 teeth) to a 30-40 cm depth, carried out in autumn. Limited use of herbicides and fungicides
Year of plantation: 1977
Date of harvest: 24/09/2015
Type of harvest: manually in cases
Geolocation: medium hill
Chemical Analysis
Dry extract [g/l]: 17.80
Total acidity [g/l of tartaric acid equivalent]: 5.09
Volatile acidity [g/l acetic acid equivalent]: 0.37
Total SO2[mg/l]: 105
Free SO2[mg/l]: 26
Packaging
Contact us to organize shipping and discounts
Number of bottles per box: 6
Box size: 260 x 172 x 311 mm
Box type: white, triple type corrugated cardboard, signed with the corporate brand